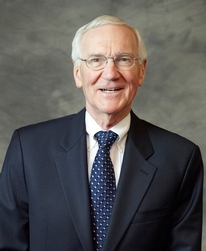 ADMISSIONS
"I shall be telling this with a sigh
Somewhere ages and ages hence;
Two roads diverged in a wood, and I -
I took the one less traveled by,
And that has made all the difference."

Robert Frost,
The Road Not Taken
Dennis J. McNally
IN MEMORIAM
(December 23, 1941 - June 1, 2016)
CONTACT INFORMATION

V-Card
Dennis J. McNally, one of the firm's co-founders in 1988, passed away peacefully at the age of 74 on June 1, 2016, surrounded by his family. Dennis will be lovingly remembered by his best friend and wife of more than 49 years, Kathleen, their five children, and 13 grandchildren.
Dennis was born and raised in Milwaukee. After graduating from Marquette University School of Engineering in 1965, Dennis began his professional career as a mechanical engineer with Kearney and Trecker Co. in Milwaukee. He then attended Marquette University Law School, graduated in 1971 and spent the next 45 years practicing business law, the majority of that time at McNally Law S.C.

Among many other school, church, neighborhood, and business community involvements, Dennis was an active board member of Goodwill Industries of Southeastern Wisconsin, Inc. for more than 40 years and served on the City of Wauwatosa, (WI) Police and Fire Commission.

Dennis was a skilled and meticulous lawyer, who cared deeply about his clients, colleagues and friends. We will all miss him.